Hey did you see us on KOMO4News...3/09/09 ?
Seattle Times NW Weekend Magazine
Press Release

From the Seattle Times July 24, 2008

EXTRA, EXTRA READ ALL ABOUT IT!
Edge of Seattle Cooking Announces
Culinary Getaways Article in the Seattle Times
What's cooking close to home? Culinary getaways.
Some bed-and-breakfasts around Washington state offer cooking classes along with a cozy getaway.
Article written by Jackie Smith, Pictures By Ross Mantle of the Seattle Times
(reprinted article)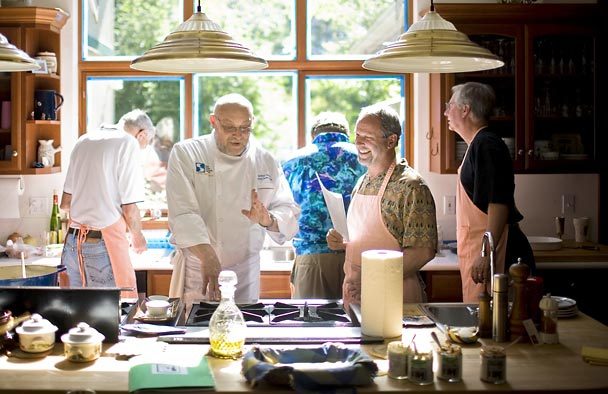 Chef Robert Houot speaks with cooking-class student George Annillo of Seattle while they work with others to prepare a meal during a "French Regional Cuisine From Alsace" cooking class at L'Auberge Edge of Seattle bed-and-breakfast in Woodinville.
(425) 844-4102
Experience the French Joie de Vivre!
L'Auberge Edge of
Seattle
bed-and-breakfast owner Nancy Gates Douglas laughs with cooking-class students.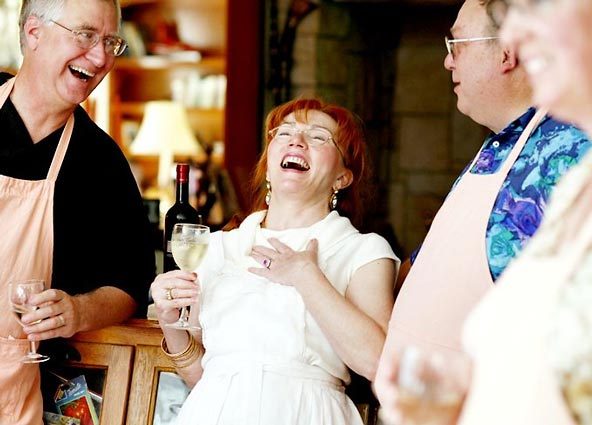 L'Auberge Edge of Seattle in WOODINVILLE - Monet would have loved it here.
On a recent summer afternoon, the sun-dappled formal garden stretched from a patio where guests sipped Champagne to the distant towering trees that cocoon this five-acre estate. It was an Impressionist painting of a French garden party come to life.
In reality we were some 20 miles east of Lake Washington at a bed-and-breakfast called L'Auberge Edge of Seattle, but it certainly seemed we were at a French countryside inn - just the atmosphere that proprietress Nancy Gates Douglas strives for at her all-things-French B&B.
The genteel garden party didn't last long though as the bubbly was set aside for neck-to-knee aprons and we headed to the kitchen to begin the real purpose of this visit - learning to cook a French meal.
Culinary tourism, those extended French- and Italian-countryside culinary getaways (learning + fun = good vacation), sounded intriguing. But mixing their hefty summer pricetags with soaring airfares and a weak dollar has left them simmering on the back burner for many Americans this year. Instead, I went looking for what was cooking closer to home. Voilà: The first stop was nearby Woodinville.
During the six-hour session at L'Auberge, guest Chef Robert Houot (in French, "Roe-bear Who"), would lead a dozen adults through hands-on chopping, chuckling and chattering to create and consume a four-course menu, beginning with a Three Onion Soup Gratinee and concluding with Apple Tarte Alsacienne (a tart with vanilla flan).
Class participants Nicole Solomon, from Renton, and her fiancé, Andrew Ross, from Liverpool, England, were looking for a weekend getaway when they found the L'Auberge Web site.
"We love cooking and we were looking for a getaway and we saw the cooking class and thought, 'My gosh, that's great,' "she says. "The French thing got us - I used to live in France and speak French fluently."
Eastgate architect Richard Person has taken seven or eight classes here including the Moroccan and Spanish cooking classes that have been interspersed among the French cooking lineup because, in addition to learning about cooking, he has fun and meets new people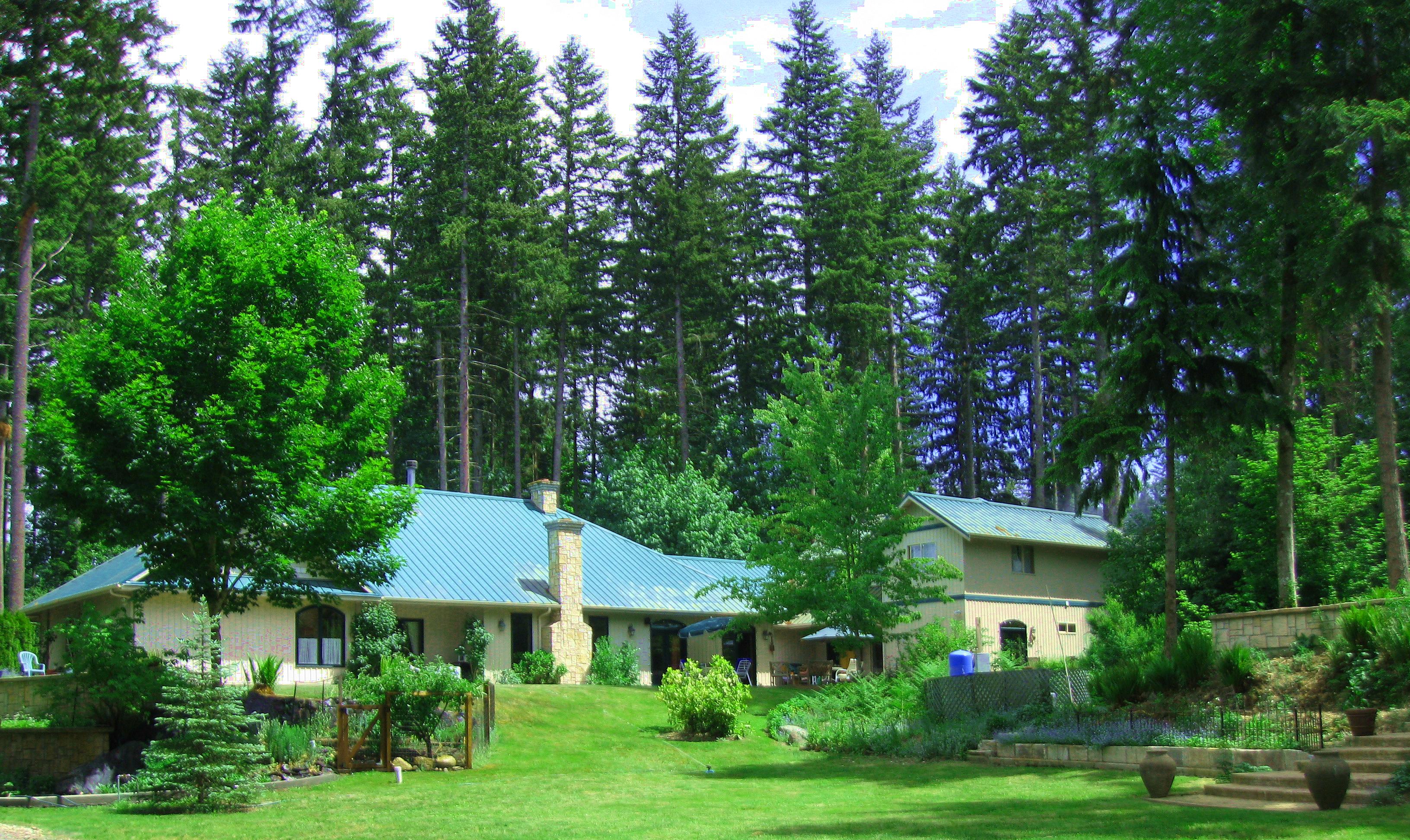 Nicole Solomon of
Renton
measures ingredients during a French cooking class at L'Auberge Edge of Seattle bed-and-breakfast in Woodinville. She took the class with fiancé Andrew Ross.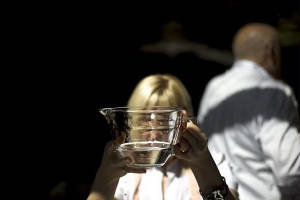 Chef Robert Houot, center, leads a cooking class at L'Auberge Edge of Seattle, a bed-and-breakfast inn in Woodinville. WA.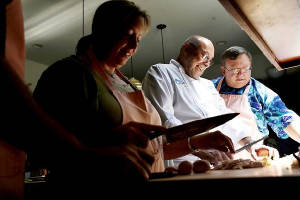 Modeled after the French Country
Inns


Relax In Luxury...and expect to be pampered. As in the quiet secluded private auberge's of Europe, we are hidden away in the forest of evergreen in the Woodinville Wine Country. Our Inn is especially enticing for lovers of all ages who seek a romantic setting away from it all. We are well off the beaten path covering five wooded acres in-between Redmond and Woodinville on the edge of Seattle in Western Washington Wine Country. To make a reservation for call (425) 844-4102.
In addition to hands-on French Regional Cooking Classes we also offer Corporate Team Building events as well as Wedding Receptions, Wedding Rehearsal Dinners, monthly Wine Threshold Seminars, and a weekly Tea Service for parties of four or more.
A Bientot!